Customer satisfaction and service quality
Keeps your

Volkswagen

running like a

Volkswagen

.

Volkswagen Service ensures that you can relax and enjoy the freedom that your Volkswagen gives you with the wide range of services related to modern mobility. This is only available from your Volkswagen dealerships and service centers who are committed to Volkswagen quality. Scroll down and see a list of our Aftersales services.
So, what can we do for you today?
Genuine Service
Our Genuine Service provides a range of services that are designed specifically for your Volkswagen. In the event of repairs, we only install Volkswagen Genuine Parts®: High-quality, safe and tailor-made. So your journey is care-free and comfortable.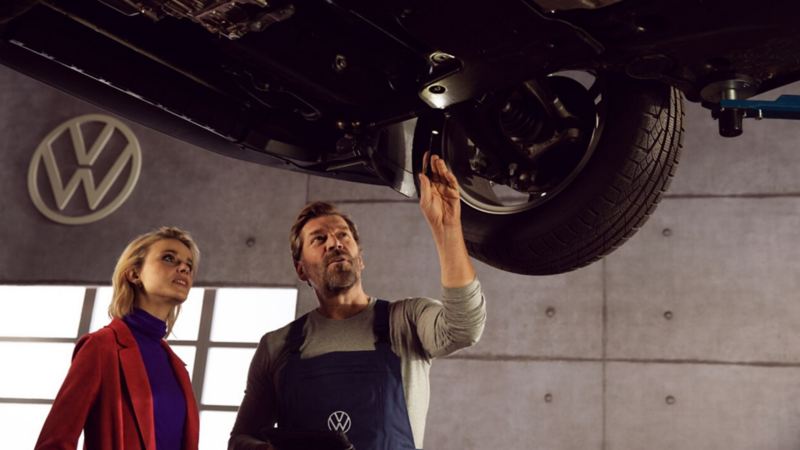 Volkswagen

Dialogue Reception

Check-up for your car. One-on-one.

At Volkswagen Service, we focus on quality, safety, and transparency. That is why we recommend you to choose the Dialogue Reception option. Together with you, a Service Advisor will systematically check the condition of you car item by item, recording your wishes and objections. Only then he will determine the extent of the repairs with you and let you know what the costs will be. 

The Dialogue Reception is free and without obligation.
Express Service
Get your car serviced in a flash.
The Express Service concentrates on quickly completed routine operations. The same high quality standards apply as for other work performed by Volkswagen Service. Everything is done while you wait and you know what's going to cost when it's finished. 
We offer all Express Service at highly competitive prices and work is performed to the high quality standards you have come to expect.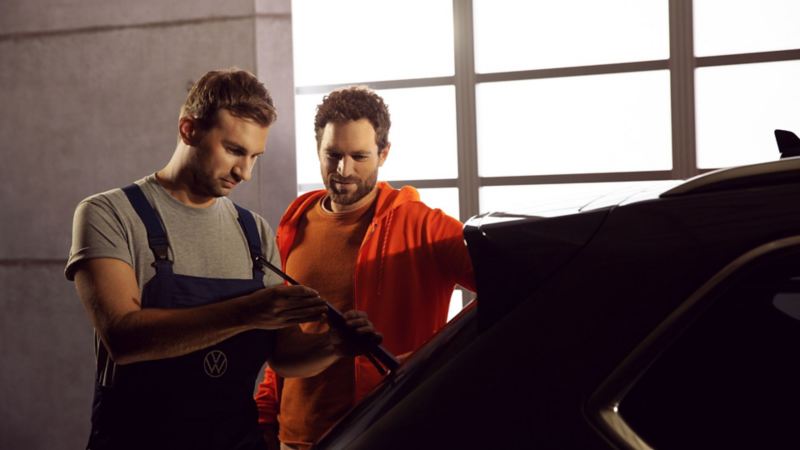 Oil Service
Even your Volkswagen appreciates a good drink.
Oil is not just oil. 
We know which oil is right for your car, and we will perform the oil change in accordance with Volkswagen specifications. We only use oils that commply with Volkswagen standards and change the oil filter and seals with Genuine Parts.
Vehicle Safety Check
Ensure Worry-free Travel.
Recommended for all Volkswagen passenger cars-- not just before you undertake a lengthy journey: the Vehicle Safety Check. For a nominal price, we shall check your Volkswagen item by item to make sure that everything is safe and in perfect working order, confirming this with our Quality Check Sheet.
See our Quality Check Sheet below.
Air Conditioning System Service
Too hot? Too cold? We can make it just right.
Fresh air. Safe journey.
Poor air will make you feel tired and drowsy-- and that can be dangerous when you're sitting behind the wheel. What all drivers should know: a car's airconditioning system needs to be serviced at regular intervals to ensure that it works properly and achieves the desired effect. In the course of its service life, its function may be impaired, for example by dust, road salt, insects, pollen etc.
Body and Paintwork Service
Return your car's beauty.
Our workshops will eliminate body and paintwork damage strictly in accordance with Volkswagenn guidelines. We have the special tools that exaclty match your Volkswagen model. And we use Volkswagen Genuine Parts and paint materials. All of your guarantees are upheld and your car shines like new. Our professional paintwork care service keeps your car looking good for longer and provides optimum protection for the paintwork. 
Car Care Service
A shiny offer — that's neat.
We know your Volkswagen intimately. We also know how to care for it so that it always looks good as new. That is worth a lot but it doesn't cost much. We can offer you basic cleaning through to complete care. 
External cleaning
Thorough cleaning not only makes a visual difference, it is also a precaution. But only if you know how. Otherwise you can cause scratches during washing.

Paint care and preservation
Regular care will protect the paintwork. Preservation is advisable at the latest when water no longer clearly rolls off the paint. Our recommendation: Apply our hard wax preservation twice a year, even if you regularly use a conventional wax preserver.

Interior care
Again here, incorrect care can cause damage. We know all the tricks and we only use the right care agents.